FAQ
Subscribe to posts
Many areas and aspects of Nepal are best discovered in the Monsoon. Nature is at her most resplendent, rural activity is also at its peak; moreover, a myriad of Nepal's traditional festivals falls in this season. Monsoon Nepal is our selection of the best trips in the rainy season, featuring the valleys of Kathmandu and Pokhara, a six-day moderate grade trek in the Nepal trans-Himalaya, and optional high water rafting and wildlife safari extensions.
Our trek takes us to the Tibet-like, semi-desert region of the Thak Khola canyon and the Dzong Khola valley; here the effect of the Monsoon is hardly felt. The trek begins and ends with the spectacular half-hour STOL flight from Pokhara to Jomsom up the Kali Gandaki gorge, cutting between the 8,000-meter ranges of Annapurna and Dhaulagiri Himal. The highlights are a two-night stay at the magnificent fortress town of Jharkot and the shrine at Muktinath, sacred to Buddhist and Hindu pilgrims alike. Stops include the charming Thakali town of Marpha and Kagbeni, a citadel at the confluence of the two rivers draining the region. We stay in simple, authentic lodges and savor the fare of the legendary Thakali innkeepers. A splendid encounter with trans-Himalayan Nepal and its peoples.
Trip Itinerary
Day 1 Arrive Kathmandu; orientation. Afternoon walking tour of oldKathmandu. 
Day 2 Morning tour of Swayambhu and Patan. Afternoon flight toPokhara.
Day 3 Fly Pokhara (3,150') - Jomosom (8,900'); trek to Tukuche (8,500') & back to Marpha (8,740'). 
Days 4-5 Trek to Kagbeni (9,220') and Jharkot (11,850'). 
Day 6 Side trips to Muktinath (12,500') and Purang (11,320') from Jharkot. 

Day 7 Jharkot - Jomosom. 
Day 8 Fly Jomosom - Pokhara. Rest of day at leisure. 
Day 9 Drive to Kathmandu. Afternoon at leisure. 
Day 10 Morning at leisure. Afternoon tour of Pashupatinath temple and Boudhanath stupa. 
Day 11 Morning tour of Thimi &Bhaktapur. Afternoon at leisure. 
Day 12 Depart for onward destination.
climate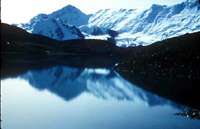 Nepal's climate varies with its topography and altitude. It ranges from the tropical to the arctic. The low-land Terai region with its maximum altitude to approximately 305m, which lies in the tropical southern part of the country, for instance, has a hot and humid climate that can rise above 45 Degree Celsius (113 Degree Fahrenheit) during summer. The mid-land regions are pleasant almost all the year round, although winter nights are cool. The northern mountain region, around an altitude above 3,300m has an alpine climate with considerably lower temperature in winter as can be expected.
seasons
Nepal has four climatic seasons.
Spring (between March – May): The temperature is mildly warm in low lands while moderate in higher altitudes with plenty of opportunities to have tryst with the mountain views. It is also the time for flowers to blossom and the national flower of Nepal – rhododendron sweeps the ascending altitudes with its magnanimous color and beauty.
Summer (between June – August): This is also the monsoon season in Nepal. The weather is hot and wet at times. It rains almost everyday with occasional thunderstorms in the evening. The rain spreads the pleasantness around with lush green vegetation.
Autumn (between September – November): This is the best tourist season in Nepal with the summer gone by and the winter to set in. The weather is highly pleasant so are the mountain views. This is the peak season for trekking as mountain views are guaranteed so better book your flight in advance. This is also the season of festivities as Nepal celebrates the biggest Hindu festivals Dashain followed by Tihar.
Winter (between December – February): The weather is cool and the sky is clear with occasional snowfalls at higher elevations. This season is good for trekking in lower elevations. The morning and night is cold and the days are warm when sunny.
temperature & rainfall 
Nepal is the country of extremes. The low-land plains of the Terai can have tropical temperatures and also the mosquitoes. The Himalayas can get to sub-zero temperatures, but the sun blaze can bring some warmth during the day, even in the mountains. The temperature of Kathmandu goes below 1 Degree Celsius (34 Degree Fahrenheit) in winter and rises to an average of 25 Degree Celsius (77 Degree Fahrenheit) in summer.
The average temperature in Kathmandu during the four seasons:
* Spring season ranges between 16-23 Degree Celsius (61-73 Degree Fahrenheit)
* Summer season ranges between 23-25 Degree Celsius (73-77 Degree Fahrenheit)
* Autumn season ranges between 15-24 Degree Celsius (59-75 Degree Fahrenheit)
* Winter season ranges between 9-12 Degree Celsius (48-54 Degree Fahrenheit)
During the rainy monsoon season between June to August, it rains to an average between 200-375 millimeters in Kathmandu. There is occasional rainfall during the other seasons too. In an average, 1300 millimeters of rain falls in Kathmandu every year.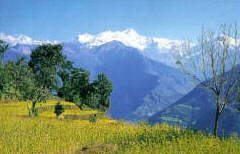 Travel Tips: Monsoon in Nepal is not the typical monsoon of Asia. Rains usually occur during the night-time leaving the sky clean and clear by the morning making the Himalayan view even more dramatic. Some parts of the Himalayas in Manang, Mustang and Dolpo are in rain-shadow areas; the mountains are high enough to block the clouds. Tibet's high travel season also corresponds to Nepal's monsoon.
Take off your shoes before entering a temple or one's home.

Ask for permission before entering a Hindu temple.

Taking photographs inside the most temples are considered illegal. Ask for permission before taking photographs of objects, and including Nepali people.

Nepali people are friendly by nature. Have a genuine interest in them. Talk to them. Be friendly as you travel..

Public displays of affection such as kissing may be considered offensive.

Say hello or Namaskar if anyone is initiating a dialogue with you. The form of greeting in Nepal is Namaste or Namaskar. Say it to greet Nepali people. It has a lot of meaning such as hello, how are you, have a nice day, bye bye. To do Namaskar by hand, join your palms together, bring it few inches below you chin facing it upwards.

You may accept handshake offered by both sex male or female, but never offer your hand first to women. Instead you do `Namaskar' Its considered rude for a man to touch a women even shaking a hand, specially married women. Hand shakes are more gentle not strong, so don't feel the person isn't interested, it's just their way.

Roads are narrow and crowded so horns help drivers save lives. They signal pedestrians with each beat of the heart! So be ready to hear horn noise and accept it - don't get upset about it

Khana Khanu Bhayo? - Nepalese may ask you in Nepali, Khana Khanu Bhayo (have you eaten) ? Its a form of greeting more than the question. So go ahead say `you ate one (Khaya)' if you are busy, or they will have you joining their dining table if you say (Chaainaa)!

For Yes : shake your head from side to side, and for NO: nod your head up and down

It is common to see same sex walking together hand in hand or with arms around each other. It is a common friendship gesture in Nepal. Perception of friendship is realized before such terms like Gay or Lesbian. When someone talks to you and taps you while talking to you consider that the person is trying to get your attention - its a Nepali friendship way.

Pointing your finger at people is considered bad - it means wait and I will have something against you! If you have to point at someone, use your upturned hand or lift your chin and say oo

It is believed that it's uncommon to say Ma Lai Thaha Chaina (I don't know in English). Its often considered rude to say it. So if you have to say "I don't know" try saying it like you knew it! Suppose someone asks you where is America and you didn't know, you would say "Try looking up in the globe?" So people expect answers from you but not the "I don't know" answer!

When you are in a Nepali dining table, there is usually the senior member of the family, usually a female, serving to everyone. She will repeatedly offer food. Consider that as a respect, don't get offended, take a little and say thank you. In Nepali, usually the mother eats last and she makes sure that everyone eats and eats well. That's why you have the repeated offers!

You generally visit someone in a hospital with fruits or some powder mix like a popular Indian made Horlicks. Never visit someone in a hospital empty hand and a happy face!

Elders are called by their title but not by their names. Never call your daddy by his name nor do you call your mummy by her name, it's considered rude. When you visit your friend's parent, you also don't use their names. Brothers and Sisters also do not use their names while calling one another.

Shopping in Nepal start by bargaining. Most products don't have price tags, so you are expected to haggle with shop owners. Don't buy anything without bargaining or if you feel that extra dollars of yours would not hurt poor Nepalese go ahead give your best shot! Bargaining is common for buying stuff like vegetables and groceries, riding a cab, buying gift items such as Nepali Kukuri, Carpets, and just about anything really.

When you touch someone with your feet accidentally, you pay back the respect by tapping the person's shoulder, and then your forehead.

Calling people by names like Dad, Mum, Sister, Brother, Uncle is very common. For example, you say `Amaa' (Mother) or Buba (Dad) to your friend's parents but never call them by their names.

Never tell a girl you don't know that she is beautiful or compliment on her features. Girls consider it impolite and rude - they think you are flirting with them. Most Nepalese girls don't flirt except for a few bunch living in cities breathing western air!.

Slurping - It is common to slurp tea and other hot drinks in restaurants and homes.

Superstition is a part of Nepalese life. Never say a young baby healthy and or fat - they don't like that, they think the baby will get sick afterwards. Never keep your shoes or sandals upside down - it brings bad luck around. Spilling rice on the floor (specially cooked rice) and walking on it is an insult to the Hindu Goddess of Food. For a long journey away from home, you usually depart with a sip of yogurt and/or a red tika (colored mix or powder) on your forehead given by the senior member of your family. Some highly superstitious people will only travel on specific days of the week for leaving home towards a specification directions like north or south. The number 3 is considered unlucky - for example, when three people have to depart from the same location, they leave one after another but not all at same time. It is common to pray before traveling specially on a long journey, so you will see bus drivers with photos of Hindu goddess, incense and bells and doing prayers before beginning the first drive of the day. Its common to see hanging of red dried Chillies in places like homes, restaurants and even in buses - it's done to protect the place from bad spirits.

Fat - If you tell someone he or she is fat, it's a compliment. Say it in Nepali "Tapai Kastoo Moto HooNuuHunChaa". Nepalese like that and most Nepalese like to be called fat. When someone has a big fat belly, it means they have got a lot of money to eat, it shows off. Most big fat bellies in poor countries do walk proudly.

Sharing a meal - You always ask someone around you if that person want's to share your meal. If you take a snack to work, you always ask your colleague if they would like to have a bit out of it. When a Nepali family prepares a special meal or even a special pickle at home, they will send it out to neighbors before they have it themselves. Sharing a meal makes them feel good about it. This is very common specially in remote villages in the country.

Nothing in Nepal works on time. Don't expect punctually. Public buses don't run on time, road traffics are unpredictable, and I didn't know about the meeting time - the kind of excuses you will hear from someone who shows up late in Nepal. Expect everything to slow down. Did you know that it takes hours just to pay your Electricity Bills, forget about paying your telephone Bill - it might take a whole day of waiting in a line! So expect delay at all levels from getting a bus, taxi, plane and getting a room in your hotel

Nepali Topi is the the national cap of Nepal - it's rather the part of the national dress for men. Many Nepalese were Topi proudly and it makes them feel good. One of the best ways to show that you care about Nepal and Nepalese is to wear this cap. Many visitors take back home a Nepali topi and use it in special occasions such for receiving Nepali friends at airport or during celebrations. Nepali Topi makes an unique and simple method to show your affection for Nepal and Nepalese. If you can, wear a Nepali topi while traveling in Nepal - for a Nepali topi on your head you feel like a Nepali and what better experience can be more than that!

Use of bad language is not common even among friends. Visitors to Nepal should avoid using bad language, and remember most city people do understand spoken English.

Licking your fingers is considered a bad manner. In most countries like USA, you lick your fingers if it has touched any edible substances. Doing the same in Nepal in public is considered gross.

Blowing your nose in front of people is considered rude. If you must blow, do it quietly and/or alone.

People spit and throw stuff everywhere- there is no law against littering. Don't complain, just go about your business, ignore it. The most common spitting is from the chewing of Betel Leaf (Paan) and chewable tobacco (Khaine in Nepali)

When women have their monthly (Period or menstruation), they sleep and eat alone without touching anyone in the family for three to four days, they are also kept isolated for a week when they give a birth. Such traditions have been modified to fit family's desire or needs. During untouchable period, women don't visit temples or perform puja (worshiping and making offerings to God ). Some go as far as not celebrating festivals. For example, a sister who has a period during Tihar festival won't give or receive tika (a special mark on forehead). Learn about Tihar festival

Most Nepalese eat their meal by hand specially for the Nepali food Dal Bhat and Tarkari

Once someone has eaten from a plate, most Nepalese will not eat from it as it is considered impure (Jutho in Nepali). They feel they might get germs from it. But it is found that many Nepalese women eat leftovers from her husband's plate - for sharing of food is a loving gesture.

Priest play an important role in the lives of Nepalese. He is called in to get a special `birth name' when you are born, he is there to witness your marriage vows, and he is with you at your funeral, and also in selected Hindu festivals like Janai Purnima. He performs puja, worships God and asks God for forgiveness of your sins. They are passionate people, they love their job like no other. Never criticise the job of a priest, even if you don't agree.

Traditional Nepalese marriage is a deal between the parents. The boy, his mother and his father will come to see the girl and her parents. She will offer them tea. He will get to see her for a while, and the deal is made by the parents. If its not good enough, they will go search for another deal.

People who don't look like the ordinary Nepalese will get lots of looks and even constant staring. Specially when you are away from the main cities like Kathmandu, you will be noticed constantly by many people including beautiful Nepalese kids whose curious eyes will be all around you. Smile and Enjoy

Nepalese don't eat beet, but buffalo meat is eaten by certain group of people.

Many of the Nepalese customs are based on traditions and beliefs in Hindu and Buddhist religions. You haven't known about Nepalese untill you have been with all. There are more than 100 ethic groups of Nepalese in Nepal each with their own custom, tradition, and rituals, all sorts speaking different Nepali language. To learn more spend 100 days in Nepal 1 day for each group!
Nepalese are friendly and hospitable by nature. Travelers count Nepalese among the best friends in the world. Nepalese respect Guests as God. And there is a popular phrase every Nepali knows, it says : "Guest equals God". When you visit a Nepali home, you are offered a cup of tea, you are asked in kind words, "Have you had your tea? or meal?" Offering whatever one has to a guest is considered a moral duty and is taken seriously by Nepalese. Meet and talk with Nepalese. Have a genuine interest in them. Nepalese wear a smile and a rich, traditional social values where love and affection comes before anything else. A part of the reasons why people revisit Nepal is because of the friendliness and warmth of Nepali people. View Photos of Nepali Faces!

Nepal is a village of Ethnic groups. Nepal's many ethnic groups are as varied as its land with their own languages and cultures; Newars, Sherpas, Chhetris, Tamangs, Rais, Limbus, Magars, Gurungs, Maithili, Bhojpuri and Tharu are just a few of these ethic groups each of them have a different language, culture, customs and traditions yet they live in a perfect harmony.
Season Times:
- Winter in Nepal : December-February,
- Spring in Nepal : March-May,
- Summer in Nepal : June-August,
- Autumn in Nepal : September-November.


About Weather of Nepal
The weather in Nepal varies from sub tropical to meditation. The capital, Kathmandu reaches below 1 Degree Celsius (34 F) during the winter and rises to an average 32 Degree Celsius (90 F) during the summer. Most Nepalese do not have heating and air conditioning system and hence the temperatures are more uncomfortable during extreme seasons. Most hotels and lodges are equipped with Heater and Air Conditioner. The temperature during the winter also rises to 15 to 20 degree Celsius during the day. The Terai region has temperature some what equivalent to that of Delhi / India where temperature can reach upto 44 Degree Celsius (111 Fahrenheit ) during the summer season.
The cast system of Nepal is banned by Nepalese Law but it still exists in many parts of Nepal. One is considered untouchable based upon the cast of which they are born. Someone claims to be superior claiming others inferior. For example, those who make the best knives in the world, the Kamis are considered untouchables in rural parts of Nepal!!! Influence of cast system is in marriage too, that is a person falling in a particular cast group marries someone in the same cast group. Bahun or Brahmin cast marries someone Brahmin or a cast near to it. Nepal is developing everyday and in cities the cast system is almost negligible these days. In rural areas of Nepal, cast system still prevails due to lack of education and awareness. An example of a cast system would be that you are cast A, either higher or lower, holding a higher or lower power in the community being affected by various casts B C D E and so on. It is possible to sue someone if he/she has discriminated you, the Nepalese law provides that. In Nepal, the cast system is being slowly eradicated by education and empowerment. Reed more...
Month
Festival
Description
October / November
Dashain
The largest and most cherished festival of all.
November / December
Tihar
Second largest festival for brothers and sisters.
January
Sweta Machhendranath Snan
The Sweta (white) Machhendranath has a week long festival in which he is bathed, oiled and painted. The goddess Kumari visits him at this elaborate temple near Asan Tol. This god is pleased by music, offerings and attentions to hope for a rainfall in the planting season.
January
Maghe Sankranti
This festival is celebrated to worship  the god Vishnu who is thanked for his efforts in making the days longer and warmer from the Magh month of the Nepali Calendar. Devotees take bath in holy rivers, eat pulaow (rice cooked with lentils, dried fruits and peas).  This festival is observed on the first day of Magh Month.
January
Basanta Panchami and Saraswati Puja
The Goddess of education, Saraswati is worshiped through the country.  Students join with teachers others for puja in their school, others visit the temples and religious sites.
January - February
Swasthani
The goddess Swasthani regarded as the ultimate gift grantor is worshiped on this festival. According to the legend, Parbati got Lord Shiva as her husband only after worshiping Swasthani. In every home
February
Maha Shivaratri
The Pashupati temple, in other words, the Lord Shiva's temple is remains packed with devotees for 2 to 3 days before the festival. On the day, one will find almost impossible to visit the Pashupati temple which remains jammed literally! The day is observed by visiting Pashupati temple, drinking and dancing. Sadhus - the replica of Lord Shiva enjoy the day by smoking cigars and sweets.
February
Losar
The festival of Sherpas and Tibetan who welcome the near year by celebrating this festival in which one can see feats, family visits, songs and dance in monasteries and colorful prayer flags decorating streets and rooftops.
March
Fagu Purnima or Holi
Call it ugly or awesome, this is the festival of colors. If you are new to this festival, you will like it more!! Hide your clothes when walking on the streets! what? The festival is of just a single day but the fever starts 7 days ahead. Its all about splashing others with water and color. Color powder is often mixed with water and is filled in balloons which are then  thrown at anyone for a good splash. Youth enjoy the final day of the festival as portraying one's chests and face fully covered or painted with different colors.
April
Chaitra Dashian
Celebrated to observe the Lord Ram's victory over Rawan. Devotees visit the RAM and Durga temples to perform puja.
April
Ghode Jatra
A great jatra (gatherings) takes place to please the demon who is believed to be buried under the soil of Tundikhel. The jatra is purely an stunt of show-jumping, motorcycling, horse riding, gymnastics and sky diving all  performed by the Nepalese Army.
April
Biska Jatra
Communities at Bhaktapur and its surroundings replay a drama passed on generations to another. The drama is about scarifies and pleasing goods.
May
Rato Machhendranath Jatra
Rato (Red) Macchindranath is a rain god. In ancient times, the Kathmandu valley was a land of agriculture. This festival of gatherings (jatra) is dedicated to the god for hope for rains during the monsoon season.
May
Buddha Jayanti
Lumbini, a piece of land is truly a gifted land by nature. It is where the lord Buddha was born. On a full moon day, the may 6th, the Lord's birth, enlightenment and salvation are celebrated through the Nepal. Swayambhu and Boudhanath stupas receive huge visitors during this festival.
July - August
Gunla
The time when monsoon has arrived and the rice have been planted, it is time for Buddhists to observe this festival. This is an ancient festival initiated 25 century ago by the Buddha. During this one month festival, prayers, fasting and medications and religious music takes its turn.
August
Janai Purnima and Raksha Bandhan
Its the Hindus and Buddhists time to change a sacred thread (Janai) which is tied on the neck sliding from the right to left hands, and it is also the time to tie Raksha, a red or yellow thread (believed to have the power to protect) around wrists.
August
Gai Jatra
To most Nepalese, it is like April fools day. This festive season is also a time to remember your lost ones and also to ease the pain. The word Gai means cow in English. Cow is the goddess of wealth and is regarded as the souls of the departed to the gates of the netherworld.  Sharing of sorrow and to taking the comfort in knowing that their lost ones are safe is the true reason of celebrating this festival.

Satire, jokes and cartoons are published on newspapers and magazines. These such jokes are mostly describing the political situation of the country for the last year. Press and media feel like writing just about anytihg on this day, for its a jokes day!
September
Teej
A festival purely for women to perform puja, workshop lord Shiva, and go into fasting for a day to ask for husband's long time and strong bond of love. Women wear red saris, sing and dance in Pashupati temple or anywhere in the junctions. The blessings of Shiva and the Lord's wife, Goddess Parbati ensure that family life strengthens and is joyous.
September
Indra Jatra
Right after the monsoon, this festival is celebrated to thank the gods for giving enough rains to the Kathmandu valley. A great celebration and jatra takes place in the Kathmandu durbar square.
October-November
Mani Rimdu
It is a a five days festival celebrated by the Sherpa in the Everest region. The celebration consists songs, masked dances and prayers. The gathering is for "the good of the world".  Trips to the Everest during this festive season are very rewarding.
December
Bibah Panchami
This is the festival that observes the marriage of Lord Ram and Sita. Festival lasts for up to 7 days, during which enactment of the marriage ceremony of Ram and Sita are performed in stage in villages, towns and city areas. Ram, the hero and Sita are the heroine of  Ramayan, the most popular Hindu epic ever.
Version 2
The new national anthem of Nepal
In English Translation
We are the flowers of hundreds, the one garland - Nepali
Sovereign, spread out from Mechi to Mahakali.

Amazing nature's millions of heritages
By the blood of the braves, independent and immovable.

Land of Knowledge, land of peace, Tarai, Himals, Mountains
Undivided this beloved, our mother-land Nepal.

Diverse race, language, religion, culture are so large
Our progressive country, long live, long live Nepal. 



In Nepali Language / Script
सयौ थुङ्गा फूलका हामी एउटै माला नेपाली,
सार्बभौम भई फैलिएका मेची महाकाली
प्रकृतिका कोटीकोटी सम्पदाको आंचल,
बीरहरुका रगतले स्वतन्त्र र अटल
ज्ञानभूमि शान्तिभूमि तराई पहाड हिमाल,
अखण्ड यो प्यारो हाम्रो मातृभूमि नेपाल
बहूल जाति भाषा धर्म संस्कृति छन् विशाल,
अग्रगामी राष्ट्र हाम्रो जय जय नेपाल

Watch a video that has Audio with Nepali subtitle and English Subtitle follows after half time of the video
Version 1
This anthem is said to have been over-taken by the Version 2.0 (See above)
In Nepali:
Shri man gumbhira nepali prachanda pratapi bhupati
Shri pânch sarkar maharajdhiraja sada rahos unati
Rakhun chi rayu eeshale praja phailiyos pukaraun jaya premale
Hami nepali sarale.

For Audio/MP3 of New National Anthem, Follow This Link K6yar.com - Audio Nepali Anthem MP3
English Translation of Version 1
May glory crown you, courageous Sovereign,
You, the gallant Nepalese,
Shri Pansh Maharajadhiraja, our glorious ruler,
May he live for many years to come
And may the number of his subjects increase.
Let every Nepalese sing this with joy.

---
All Nepalese TV and Radios play national anthem at the begining and ending of each day's programming. Students line-up infront of their school singing national anthem before classes begin. Nepalese love Nepal like no other! There are hundreds of Nepali national songs all of them are about loving Nepal and giving their contributions to Nepal. There are also national songs about the ongoing war in Nepal that is ripping the country apart. Nationality is very improtant to Nepalese and is respected very well.
The reality of the Nepali national anthem Version 1.0, is that most don't really like the anthem at all, well, a lot of people on this planet don't like their national anthems either! Nepali anthem is a King's song. It does not honor the poorest people that make up the entire Nepal kingdom. Majority of Nepalese believe that Nepali anthem should be rewritten. Well, the version 2.0 is the latest national anthem, read it above!
In Nepali, national anthem is called "Ras Triya Gaan" and the Anthem's words were by Sri Chakra Pani Chalise (1884-1959) and music by Bakhat Bahadur Budhapirthi (1857-1920), and the anthem was inducted in 1924.
Namaste = what's up man?
Common form of greeting in Nepal is called `Namaste' or `Namaskar'. Namaskar is used in a formal conversation while Namaste is often used in informal communications. Namaste is pronounced as "Namastay", and it is both a spoken greeting and a gesture.

Proper way to say and use a gesture is to put your palms together and bring it about few inches below your chin or how ever feels comfortable, with head gently bowed, you say "Namastay".

In Sanskrit language "Namas" means becoming silent, bending, and humbly submitting, and "Te" means "to you". Thus, namaste means 'I bow to you'. Did you know that Sanskrit is one of the oldest languages of the world which is still active! About Sanskrit

The word Namaste has many meanings such as Hello, How are you?, I am glad to see you, nice to meet you, good morning, i bless the divine in you, good bye, see you again.
There are other 72 different spoken languages in Nepal. Most people living in the city areas can understand and speak English fluently. Nepali, written in the Devanagari script, is the official language of Nepal. English and Hindi are widely understood in the urban centers. Nepalese learn Hindi language through Hindi movies which dominate most movie theaters. Language such as Maithili, Bhojpuri, Tharu, Newari, Tamang and Nepalbhasa are also popular in most popular cities and towns.
About Nepali Language : Nepali (Devanagari) alphabet looks like this :
क ख ग घ ङ च छ ज झ ञ ट ठ ड ढ ण त थ द ध न ऩ प फ ब भ म य र ऱ ल ळ ऴ व श ष स ह